Best Outdoor Gas Grills To Buy.
Here's a list of the best outdoor gas grills of 2019 to save you from the crudeness and torture of charcoal. It's worth it.
So I lost a bet to a friend sometime last December while grilling. I was hungry, angry and frustrated at how long it took to light up the charcoal even with a chimney because it all gave my friend more time and reason to mock me.

Like that wasn't bad enough I had to inhale the unhealthy sulfur fumes while grilling for someone who was still laughing at me.
That event triggered my research, and I went as far as needs are, then I came up with this list.
So here we go;

Char-Broil Performance 300 2-Burner Cabinet Liquid Propane Gas Grill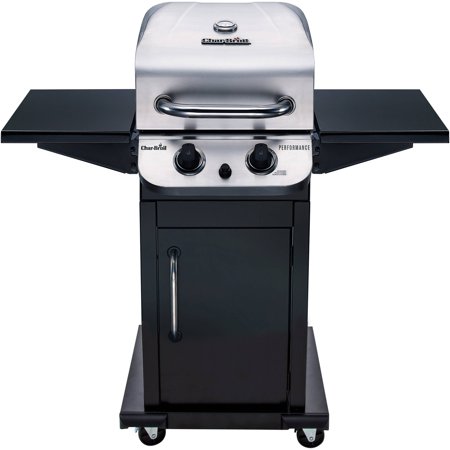 This regular gas grill from Char-Broil wears no special look.
It's got a 300 square inch of primary cooking grates. Its burners spew about 24000 BTU of heat. These iron cast grates are porcelain coated to ease cleaning.
There's a secondary grate attached, 100 square inches with a porcelain coating, easy to swing away if not in use, just like the metal side shelves.
It's also equipped with a stainless steel lid with a temperature gauge for added heat control, and the timely benefit of an electric ignition for dependable startup, charcoal totally sucks at this.
The framework is like a shelf on four casters with two of those being lockable, easy to make mobile or static as needs are.
It also has a lower storage cabinet that holds the propane tank and leaves a space for accessories.
Although some complain this space is quite small, and it overheats in the middle while under cooking at the sides.
Another popular issue is the grill not being easy to clean so you may need to oil up the surface before cooking at all.
A third common issue is that; it doesn't get as hot as needed sometimes, but you may remedy this by putting lava stones around the burner, which probably solves the under cooking too… quick hack!
Weber 44020001 Spirit II E-210 Gas Grill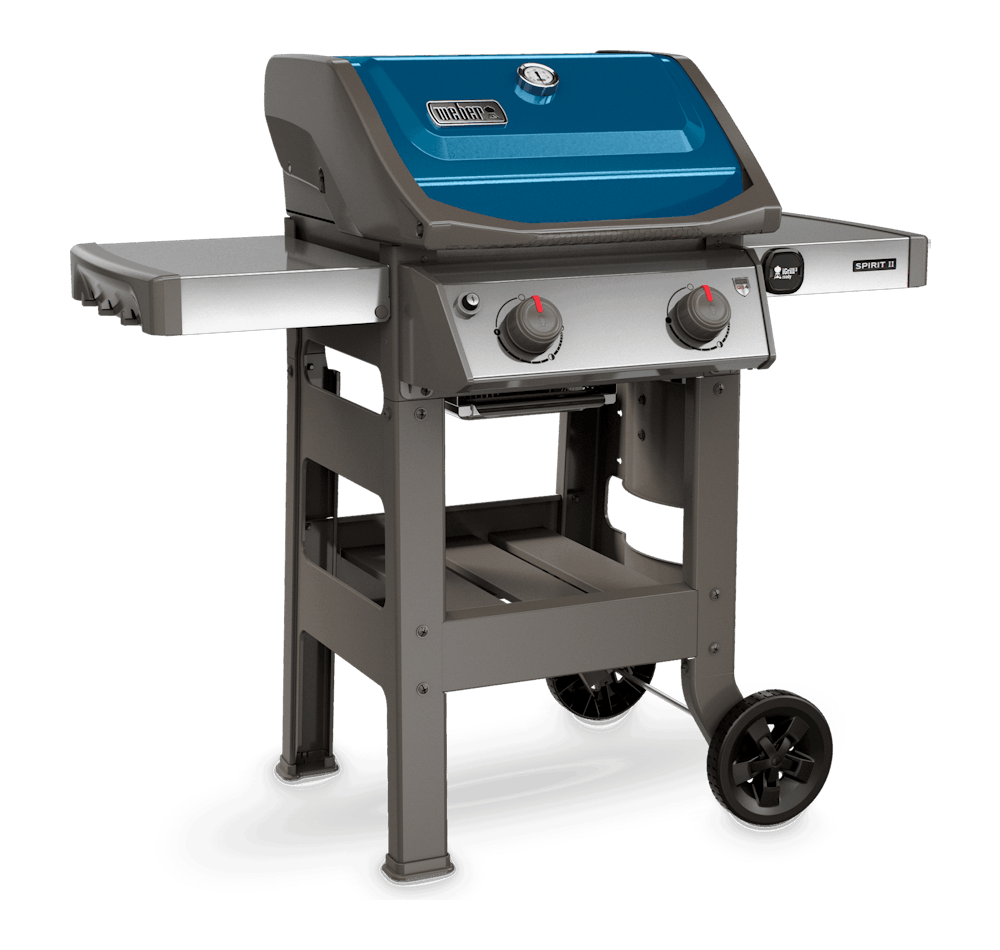 Here comes the Weber.

This right here would give you your money's worth; it's the typical fancy grill your backyard needs.
Apart from being fancy, the Weber Spirit II E-20 gas grill has GS4 grilling system with an improved infinite ignition which means you get to grill easy with long-lasting components that feels as new as the first at every grill.
Its burners are porcelain-enamel coated to avoid rust, and it has a good grease management system.
Both burners are equally 450 squared inches in width so you can have twice as much barbecue done at the same time.
It's an open cart design that comes in different colors; it has two giant wheels for mobility and a parallel pair of skids for stability.
Runs on 26,500 BTU per hour and the main burners have a fuel gauge, so you'd know what volume of propane you had used.
It gets better, you'd enjoy a whopping 10-year warranty on this gas grill
As an open cart design, you have to be wary of splashes and stains on content you keep in the compartment, and the side shelves must be folded down for the cover to fit. These are considered a disadvantage by some users.
Weber Spirit II E-310 Outdoor Gas Grill (LP)

Drum roll! The champ is here.
Once a best seller in the natural gas grill category (although it runs on liquid propane), this Weber design has had a lot of positive reviews.
If the Bluetooth technology of the iGrill I wowed you, prepare to get extra wowed as this guy right here is iGrill II compatible.
It's specially built for the outdoor as it has no parts that are liable to rust. Despite this height of sophistication, it maintains common ease of use.
The grill is made of high-temperature plastic which insulates the contents from conducting heat to the outside.
This idea is especially useful for you if you have curious kids around.
If anybody touches the plastic even when it's maximally hot, you'd have a split second to remove your fingers before it burns, unless of course… you are Daenerys Targaryen.
It has all the same features as the previous, but with improvements such as; an extra burner (making 3 of those), porcelain coated grates with a large and a small side, 529 square inch surface area.
A 30,000 BTU heat energy with a 15-gallon tank located at the side of the grill with a gauge for your propane level.
There's also this tiny vent behind the cabinet that keeps temperature uniform, even if the wind wants it otherwise.
It comes in different colors, I like the black, yes, but I love the sapphire, it gives your backyard that pure classic look, probably what earned the model a best seller medal.
But here's the kicker; it doesn't have a side burner, and I've heard people complain the grease-trap is difficult to remove.
Nevertheless, with this, you'd enjoy quick ignition, quick heating up, perfect grilling (no charring) and more.
Don't get left out, find one that suits your need here.
Weber Spirit II E-310 Outdoor Gas Grill (NG)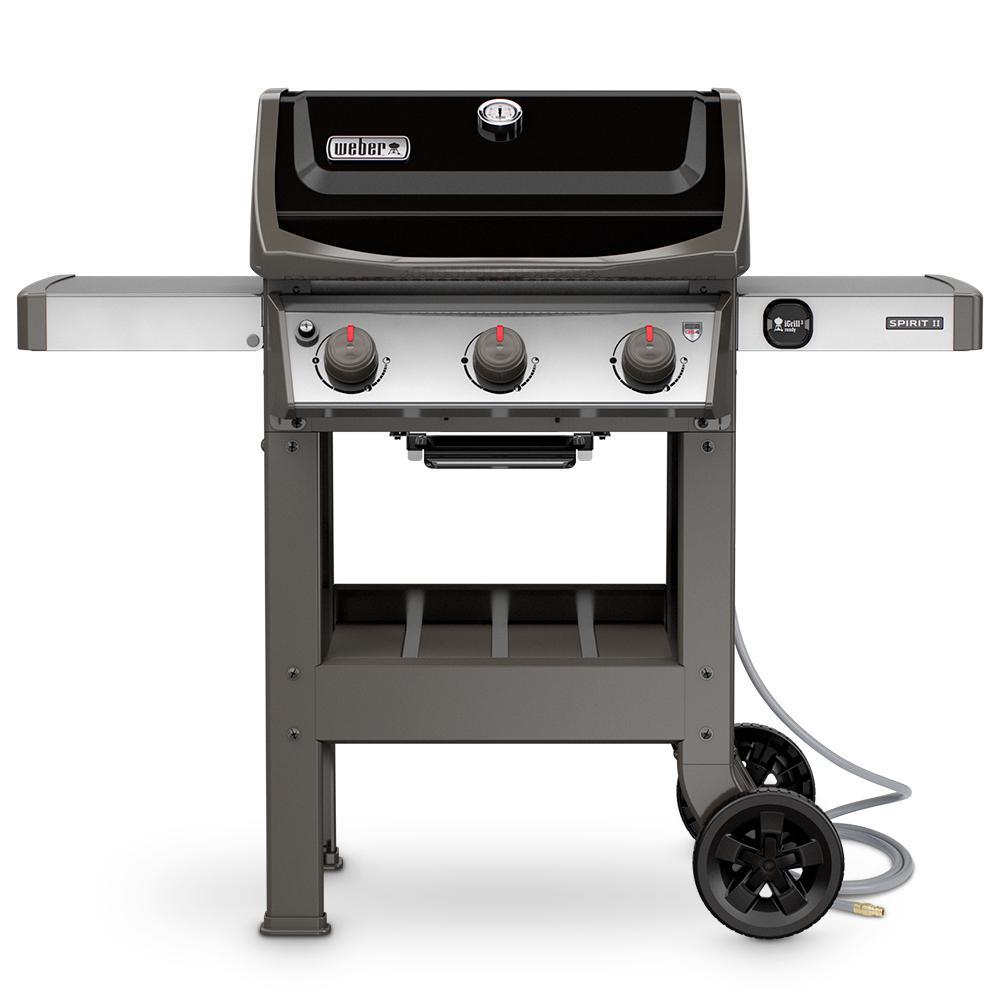 This here is like a close cousin to the previous, as it bears all the same features with the Weber Spirit II E-310 Outdoor Gas Grill (LP) with a very tiny difference in the kind of fuel they use.

This grill uses natural gas (methane) and not liquid propane which means it spends more fuel to deliver an equal BTU of energy.

Also, combustion with natural gas requires little air, an excess of air sets the flames rising above need and even jumpy.

Regardless of these limits, this natural gas grill is as efficient as any other in giving you a grilling experience you'd be happy to share.
Weber 66000001 Genesis II S-310 Natural Gas Grill

If you still wonder why grills designed by the Weber Stephen Company always come with a giant price tag, here's your chance to find out.

The popular saying "you get what you pay for," is pretty much what this grill represents.

This is the Genesis II S-310 open cart Design. The previous version in the Genesis series had a door shut cabinet, so I guess open-cart is what's generally 'next' for the grilling community.

Here you have a complete stainless steel grill, I mean all components including the grates, flavorizer bars, heat deflectors, and hood are all made of stainless steel.

However, in a bid to avoid any chance of rust, the firebox is made of aluminum.

This actually does count as part of what makes it a good grill because the likelihood of rusting has thus been minimized.

Most other grills of lesser quality have a firebox made of steel sheaths which often rust out within a couple of years.

That aside, this grill has a good grease management system that avoids sudden dangerous flare-ups.

Below the burner is a triad of heat deflectors; their job is to radiate heat back into the cooking surface.

With this, heat loss via radiation is minimized and the grills efficiency is increased.

The grill's efficiency is also dictated by the hood design.

The top is stainless steel, while the sides are cast aluminum also to avoid rust. Most inexpensive grills have any other corrodible metal as its side sheets.

Heat retention is also determined by the back wall, top, and sides.

These parts represent the major cooking area, mere metals would transfer heat to the outside while trying to equilibrate temperature but the cast aluminum construct alleviates this.

See a lot of scientific research had gone into designing the perfect grill.

This is exactly why you find most Weber grills to be a bit (and in some cases a lot) more expensive than an average grill.

The usual generous 10-year warranty given to Weber products is also a benefit here, and it takes an average of 15 minutes to hit the 600 degrees mark.

This is a shorter time for heating up when compared with most other grills.

The cart is coated with a hydro-resistant material, better than painting as peeling of paints ceases to become something to worry about.

It must be noted however that all these enhancements do not make the Weber Genesis II S-310 a hundred percent rust proof.

So if you do get the grill, get yourself a cover for it as well (a Weber cover most preferably as it drops down and goes beyond the wheels when used.

Similar to all other modern Weber designs, the tank is located beside the cart, with two wheels and two skids.

And it gets better; it's iGrill III compatible, with this you'd enjoy a Bluetooth capable thermometer you can monitor your cooking temperature while away from the grill and also beware of your fuel levels all on your Smartphone.
So congratulations, you are done babysitting the grill.

I heard a neighbor complain of the gas pressure not being regulated, said the grill doesn't come with a built-in regulator.

Therefore you may need to do some plumbing to achieve the desired gas pressure.
Megamaster 720-0982 Propane Gas Grill, Black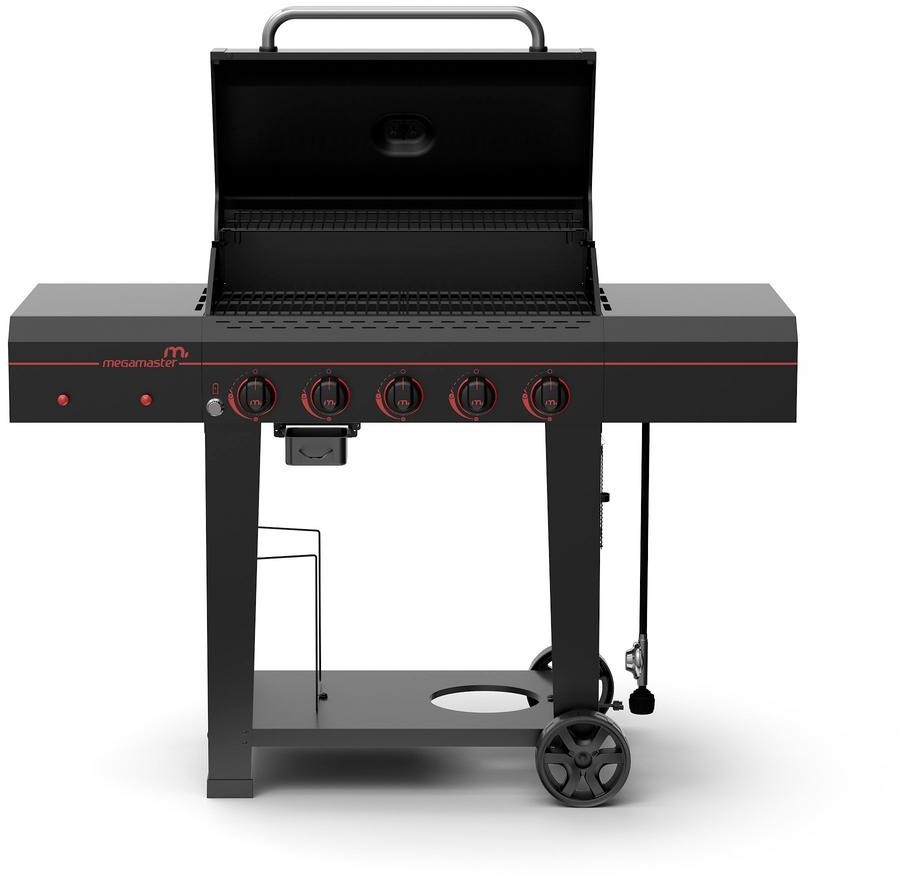 This is the 'black sheep' of the grill family.
Heavy-duty, low price, an epic 5 burner with a primary cooking space of 474 square inches and a modern electronic ignition system.
It has a warming rack of 182 square inches and spews 50,000 BTU of heat energy.
It's a stainless steel burner with a porcelain coated cast iron cooking grates which does a great job in heat retention while transferring it to the food.
You have a largely sized side shelf for your grilling supplies; you almost never run out of space.

There's also a built-in thermometer that that acutely measures temperature.
Knowing your fuel level before beginning to grill is quite important, there's a fuel gauge added to measure this, so you may have a great grilling experience.
And here is the heavy duty part; the cart-style wheels are specially designed to be mobile on any terrain, and they are parallel to a pair of skids to offer balance while static.
This grill has had good recommendations, and some say it's even better than some more expensive grills, because it's easy to assemble, stable despite its broad design and also stands the test of time as well.
Dyna-Glo DGB390SNP-D Smart Space Living 36,000 BTU 3-Burner LP Gas Grill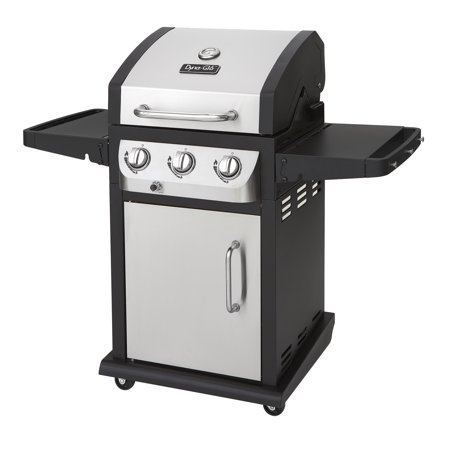 Here's a durable, high-performance grill from Dynaglo, with a total cooking area of 507 square inches.
The firebox is surrounded by heavy gauge enamel coated steel.
The burners are made of stainless steel as well, up to 36000 BTU energy from this end.
The enamel-steel flavorizer bars act as heat tents, protecting the burners from juices dripping down.
It also helps in distributing uniform heat through the entire surface.

The heat retention is also aided by a double the double wall stainless steel lid with a temperature gauge mounted.
A push-button electronic ignition system (Dyna-pulse), with a closed cabinet design, which stores other accessories alongside the propane tank.
4 casters keep the grill mobile, one of which bears a lock to keep it stable.
Aside from all the typical cooking works, this grill adds some style to your backyard. It has chrome plated knobs and shiny stainless steel finish.
Two fold-down shelves are on both sides of the grill, with attached towel shelves and a couple of tool hooks.
But there's a bad side.
Its tents and pans rust out within a few years, the tents cost about $18 and worse off, they are not covered by warranty.
Regardless of its limits, the Dyna-Glo Smart Space Living Gas Grill is a great product which is worth looking into.
Weber Stephen Company 66015001 Genesis II E-315 NG Grill

The Weber Stephan company and the Genesis series rule the grill world for now.
This is another of the company's product that also meets its template of quality.
Weber probably thought to make a closed cabinet version of the upgraded systems with a GS4, I mean, most iGrill III compatible.
Weber grills are made in an open cart design and the company deemed it reasonable to design an iGrill III compatible version for closed cabinet lovers.
This is the main difference between the Genesis E-310 and E315
The E-315 grill is a closed cabinet design with all four casters as wheels, two of which are lockable.
It also gets super hot in less than 10 minutes, transferred evenly across its porcelain enameled cast iron cooking grates.
Great grease management system, remarkable heat retention.
The 10-year all parts warranty is also in effect here so, grill on!
It doesn't have a warming rack, which is not much of big deal if you ask me.


Weber Stephen Company 66012001 Genesis II E-330 NG Grill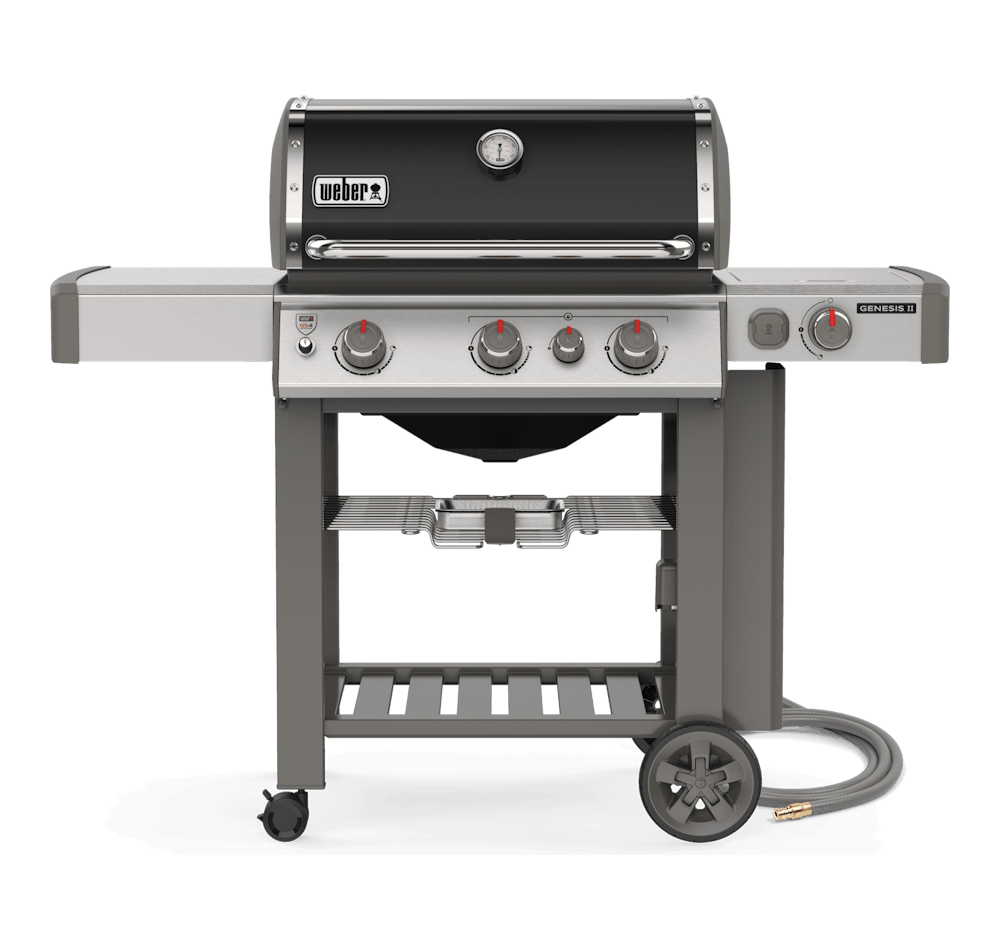 So this is one of my top five, not just because I'm in love with Weber designs, no, but because the Genesis II E-330 NG Grill is the first in the series to offer 'Flash Grilling,' which I often wish I had while grilling on an empty stomach.
Alongside all incredible Weber features such as The GS4 grilling system, iGrill III compatibility, porcelain-enamel cast iron cooking grates (with an area wide enough to cook 24, 4-inch pork loin pieces at once), it has a side burner and a sear station.
A sear station is like the next level grilling tool. Its job is to enhance the flavor and appearance of food further.
Primarily, it's a region in the rack, which is hotter than the rest of the grill surface. This is achieved by the addition of an extra burner between 2 of the 3 burners that come with the Weber Genesis series.
This technique thus produces a high amount of heat in the region, which can actually be used as a normal grill space by turning off the Sear Station.
Other non-Weber grills that have this sear station feature are not designed to withdraw the searing power and allow the space to act as a mere grill surface.

The temperature goes over 500 degrees in about 5 minutes, and the side burner, despite being outside the enclosure is scarcely affected by wind.

It's an open cart design with wheeled casters, two of which are lockable to make it static while grilling.

It still intrigues me though. I found no negative reviews on this grill, might as well be your perfect machine if there's ever anything like that.

Weber Stephen Company 67006001 Genesis II S-435 NG Grill, Stainless Steel

Now, here's the deal; this grill is over the $1k mark, if you don't need it, you don't have to buy it, but you have to see the features, it's like the hulk in an Ironman suit.

It's a 4-burner, closed cabinet model that comes in attractive colors like black, copper, and crimson.

Pretty stable for a grill of its size, and it is up to date with all the latest additions in Weber designs, I'm talking of the GS4 high-performance grilling system.

iGrill III compatibility, porcelain enameled cast iron cooking grates with perfectly angled flavorizer bars beneath them, channeling drippings towards the aluminum foil below.

It has a tuck-away warming rack that spans the entire length of the grilling space.

With all these, it has a sear station to produce that amount of intense heat needed to strike the delicious looking lines across your chicken breast.

If this grill fails to impress you, I don't think any other gas grill can. It's the real family size.
Weber Stephen Company 66011001 Genesis II E-310 NG Grill.

As the grill market's giant, this company offers the best in reliability and quality. The Genesis II E-310 NG Grill also meets that standard.

The stainless built grill combines Weber's template of a quality construct, remarkable heat retention, and wide grill area.

This grill also meets a basic measure of quality in retaining even heat.
On lesser quality gas grills or charcoal grills, manipulations to achieve this makes your meat crusty and not as tasty…

It has 3 stainless steel primary burners spewing even energy of 37,500 BTU, using about 10 percent less fuel than a regular gas grill.

Its porcelain coated cast iron grates achieves greater heat retention, and it has an area wide enough to cook about 25 pieces of a 4inch potato all at once.

3 Hangers on each side for your utensils.
Napoleon Grills Prestige 500 Propane Gas Grill, Stainless Steel
This company is potentially good competition for Weber if it tries to lower its price and increase its stainless steel quality.
They have great aesthetic designs.

The thermometer mounted hood is made of stainless steel, and the edges are cast aluminum.
The rest of the grill body is also stainless.

It offers Jetfire ignition system with temperature as high as 700 degrees Fahrenheit across four main burners, 2 infrared burners (one to the left side and the other to the rear end).

With this grill, you'd also get an electric Rotisserie Kit and a wavy stainless steel cooking grid.

The wavy grid prevents smaller food from falling through while the grill evenly heats the surface.

You'd also enjoy incentives such as the Prestige All-season Cookbook.

Its got 7-staggered stainless steel sear plates as an extra obstacle for drippings to vaporize and flavor food instead of combusting as flare-ups.

However this grill has a couple of complaints, like; people say it stops to heat evenly as it ages, it actually does flare up a little too often and occasionally fails to light.

Comparing these with the over $1k price tag is kind of not cool.
Click here to view.
Weber Q2200 Gas Grill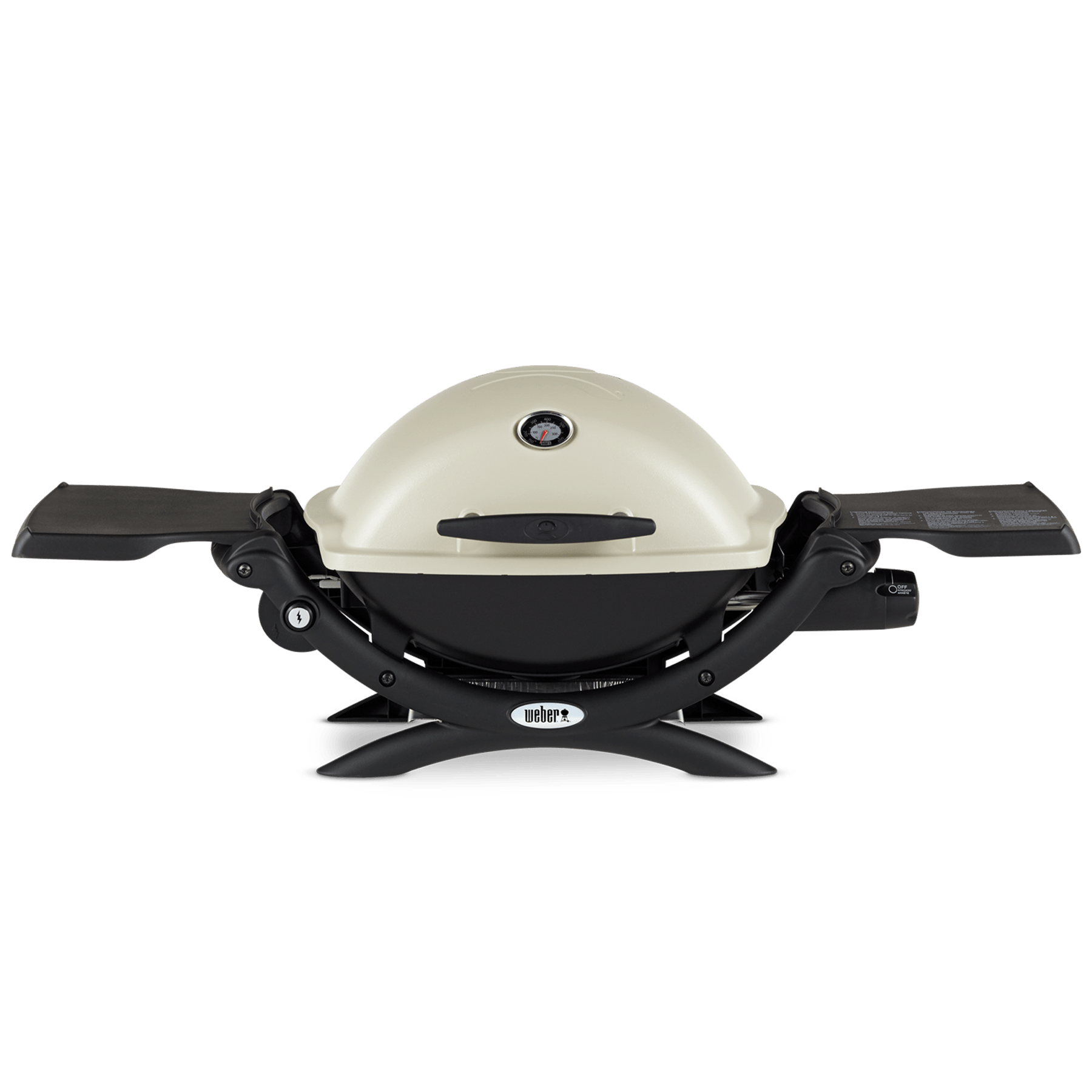 If what you like is fold, pick up and dropping in the car trunk, then this cute little grill is for you (not that little though)

The Weber Q2200 Gas Grill offers a 280 square inch of grilling space (large enough to cook a whole chicken).

The shell is cast aluminum, while the grates are heavy porcelain coated cast iron to enhance heat retention.

It offers even cooking with a temperature up to 500 degrees Fahrenheit so long it is not frequently opened.

The grill is not as powerful as a regular grill, and it's the space limit doesn't allow for much cooking.
Weber Summit 7470001 S-670 Stainless-Steel natural gas grill.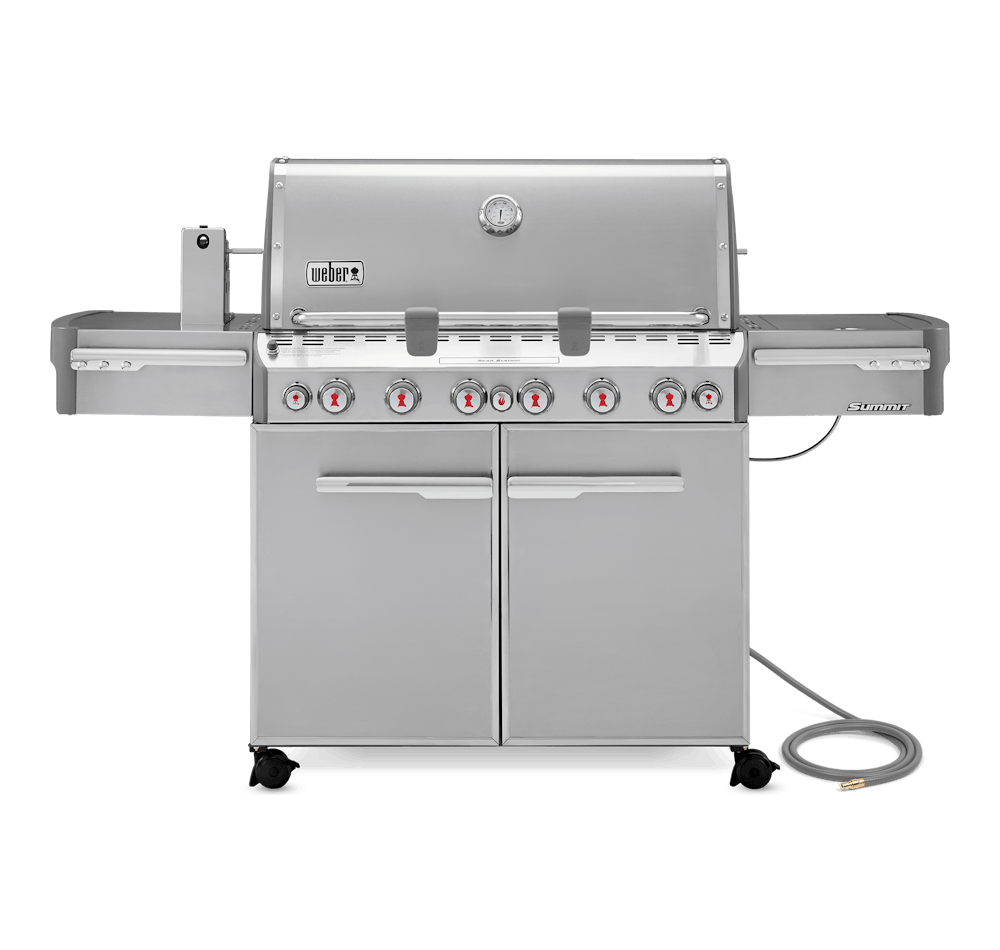 The Envy of Every Backyard.

This grill earned its well-deserved accolade by being the very best.

It's a closed cabinet model with 6 burners and a searing station at the center.

It has a heavy duty cooking grate made of solid 304 stainless steel; this aids its heat retention and durability.

Deeper down the grill are the angled flavorizer bars laying over 6 burners that spews 10,000 BTU of heat each.

Another 10,000 BTU burner located to the rear, is designed for the rotisserie kit.

The control knobs are LED light enabled to enhance visibility and aesthetics at night.

The hood is also LED enabled, illuminating your food at night for an easier cooking experience.

There's a pop-up rotisserie bar hanger on the left shelf, which can be tucked back inside when not in use. It comes with a side burner and an incentive in the form of a cookbook.

This is the best grill in the market, and it runs up about $2,800.

So in conclusion; if you want the granddad of grills, get yourself a Weber Summit, but on an average, I'll suggest any of the Weber Genesis II series, they all are perfectly designed for grilling.

That doesn't mean the rest fail at grilling though; it's a matter of choice.

Thanks for reading.